Adaptive Reuse: Our Client, Geolo Capital purchased the iconic Ventana Inn & Spa in Big Sur, California a few years ago and wanted us to complete an adaptive reuse of the historic Post Homestead structure at the resort's Hwy 1 entrance to create a classic California roadside cafe.
History: William Post, one of the original Big Sur settlers built a small cabin here in 1867 where the trail into the Big Sur back country ended. The homestead with its iconic New England Saltbox architecture was built over time with a two story section added in 1877. At various times the homestead served as the Big Sur post office and Big Sur schoolhouse. The Post Homestead was placed on the National Registry of Historic places in 1986, by then painted an iconic barn red. Prior to renovation it served as Ventana Inn employee housing for 20 years.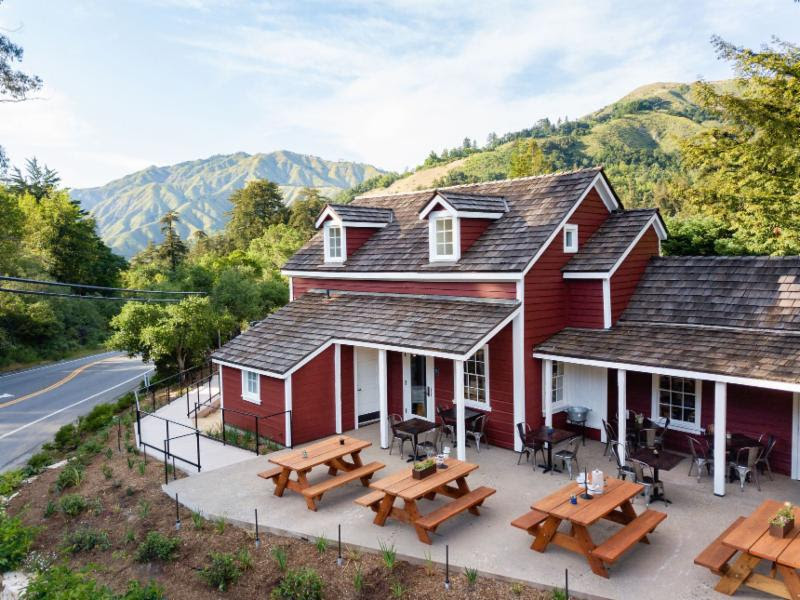 During an initial site visit with our structural engineer and historic preservation consultants there was much discussion about how to maintain structural integrity during the renovation. The original Homestead was just single wall construction, with two layers of one inch thick old growth redwood planks: an outside horizontal layer and an inside vertical layer. The original floor was redwood beams set on rocks in the dirt. In order for the structure to be adapted for a public occupancy the project would involve a seismic retrofit and a new concrete slab foundation. The exterior was restored including new historically accurate siding, windows and doors. A second story loft was removed to create a high volume cafe space. Other improvements included ADA access and ADA restrooms.
Acts of God: The contractor was in the middle of the shoring and foundation work when Pfeiffer Canyon Bridge on CA Hwy 1 was severely damaged in heavy winter rains severing access from the North to the Ventana. Attempts were made to truck materials in via a long detour but ultimately the project was delayed by more than a year while the bridge was replaced.

Shortly after opening my wife and I visited the Big Sur Smokehouse. Pitmaster JaJuan Jackson, recounted how he learned to barbecue from his Texas grandmother, and talked us through the menu. We couldn't resist the pulled pork and barbecued brisket with burnt end baked beans, coleslaw and potato salad, a ginger beer and glass of local Sauvignon Blanc.
As an architect who grew up in California I really appreciate working with buildings like this as they communicate such a strong sense of time, place and history. I am honored to have been able to restore the old homestead and I look forward to it flourishing once again as a "must-stop" on Hwy 1.
Design Team members included: structural engineers Holmes Structures and historic preservation consultant Robert Chattel of Chattel Inc.. Interior design by BraytonHughes Design Studio.
For more information about MASON Architects, please visit our website.